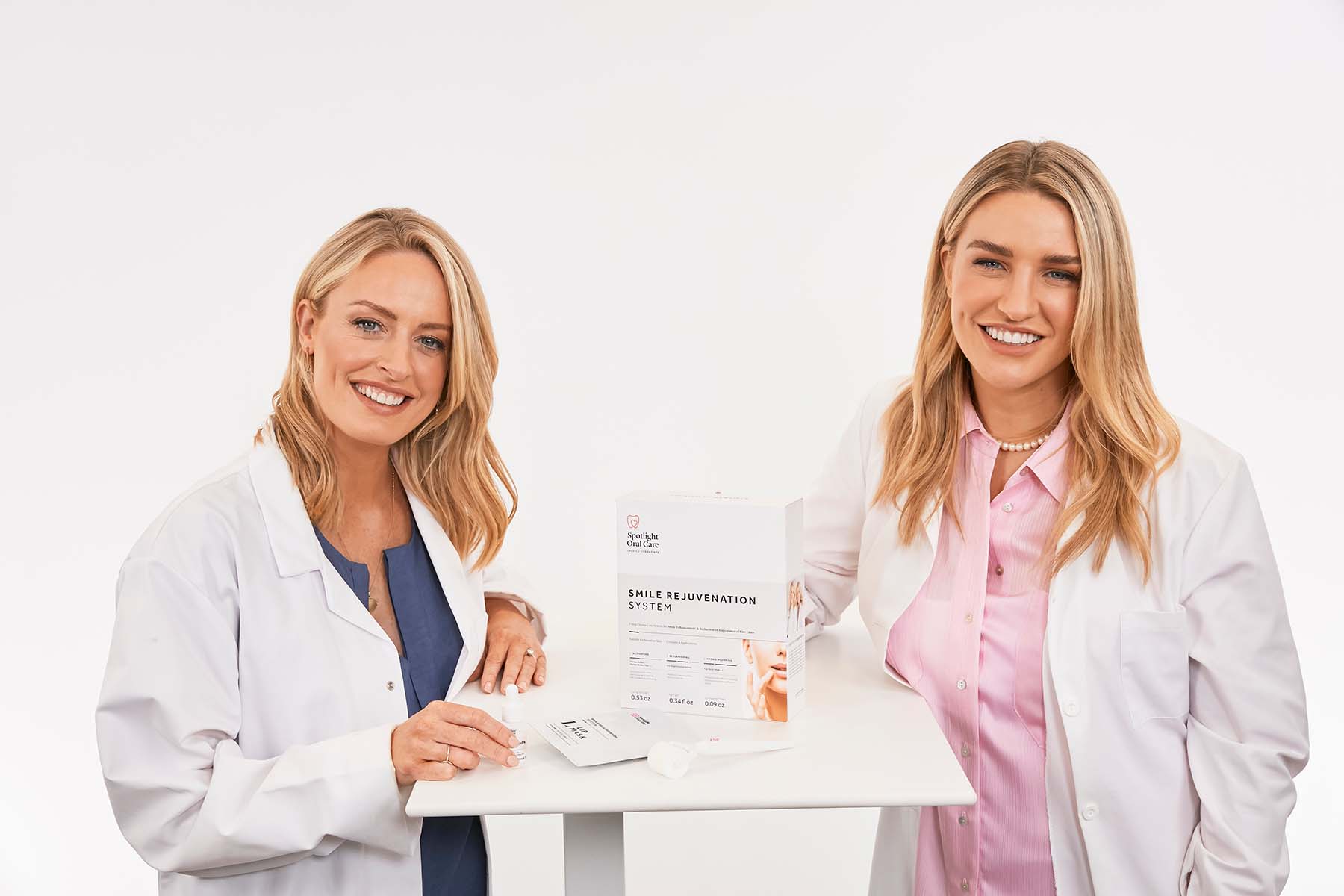 Behind the Scenes of our Smile Rejuvenation System shoot!
When it came to planning a shoot for our biggest launch of the year, we knew it had to be really special. The Smile Rejuvenation System is, after all, our first foray into skincare here at Spotlight Oral Care, so we needed to make sure the video and visuals we captured for this major announcement really made an impression and helped all of you - our amazing SOC community - feel part of this next step in our journey. 
So, what did it take to pull this epic shoot off? Well, first of all, coffee. Lots of coffee. Then, it took two incredible models, Mari and Pamela. The energy, fun, and life they brought to every single shot are what made this campaign truly special. And from these behind-the-scenes pics, you can tell they brought that energy both off and on camera! 
We wouldn't have been screen-ready without the help and expertise of our incredible glam team. On make-up,we had Sandra Gillen and on hair, Dani Daly of Hair Minx. As an at-home micron-needling care system, we wanted Pamela and Mari to really use the product on their skin, so we opted for a very natural, pared-back look for both hair and make up. 
On creating the models'  look, Sandra says, "No makeup-makeup is much harder than you may think! It's finding that perfect balance between keeping the complexion skin-like yet correcting areas that need a little work. Fresh, dewy, healthy looking skin is my thing, I always say your base has to be right, it's 80% of your face, get that right and everything falls into place. Hydration is also key!"
As for hair, Dani says, "Mari's hair is naturally magnificently curly so my job was pretty easy. I used my Cloud9 wand to just give a few curls a little polish and I kept her hair hydrated and tamed any little frizzy bits but kept it as close to natural as possible. For Pamela, we went with a straight look, a low bun, and beachy waves. Pamela's hair is amazing to work with. I used minimal products for the straight look simply smoothened it with the dryer. The bun was simple and sophisticated, held with session spray by Kevin Murphy."
We had the fabulous Namoi Gaffey on still photography, and Corina Gaffey and Olivia Keating on styling. Opting for simple, classic looks, some of our favourite shots feature nothing but blue jeans and crisp white tees, which allowed the models to shine. 
Of course, none of it could have happened without our stellar Spotlight Oral Care team. From the designers who put the mood boards together to the marketing team who coordinated each and every logistic, this campaign truly needed all hands on deck. 
Earlier this summer, we welcomed our new Senior Content Creator Dan Sweeney, who led the creative focus of the shoot. On the inspiration and direction behind his first major shoot for Spotlight Oral Care Dan says, "At-home beauty treatments should have an end goal, of course, but they should be easy to use and fun, too. That is what we used as inspiration for this shoot. We wanted to capture a relaxed, fun vibe which everyone on set contributed to; a set where models could be comfortable trying different movements and expressions solely based on their feeling from the atmosphere on set. The creative team put so much time and effort into the look and feel of this shoot and we were delighted at how it turned out."
The results? Well, see for yourself! From the packaging imagery to our beautiful How To and Launch videos, social media content to our website assets, our Smile Rejuvenation System is now LIVE and ready for you to shop! Check it out at SpotlightOralCare.com. 
Shoot Credits
Models: Pamela / Mari 
Senior Content Creator: Dan Sweeney 
Still Photography: Naomi Gaffey 
Stylist: Corina Gaffey/Olivia Keating
Producer: Siobhan Nolan / Lisa Carmody / Francesca Castiglioni 
DOP & Video Editor: Dan Sweeney 
Makeup: Sandra Gillen 
Hair: Dani Daily 
Location: Spotlight Oral Care, Galway