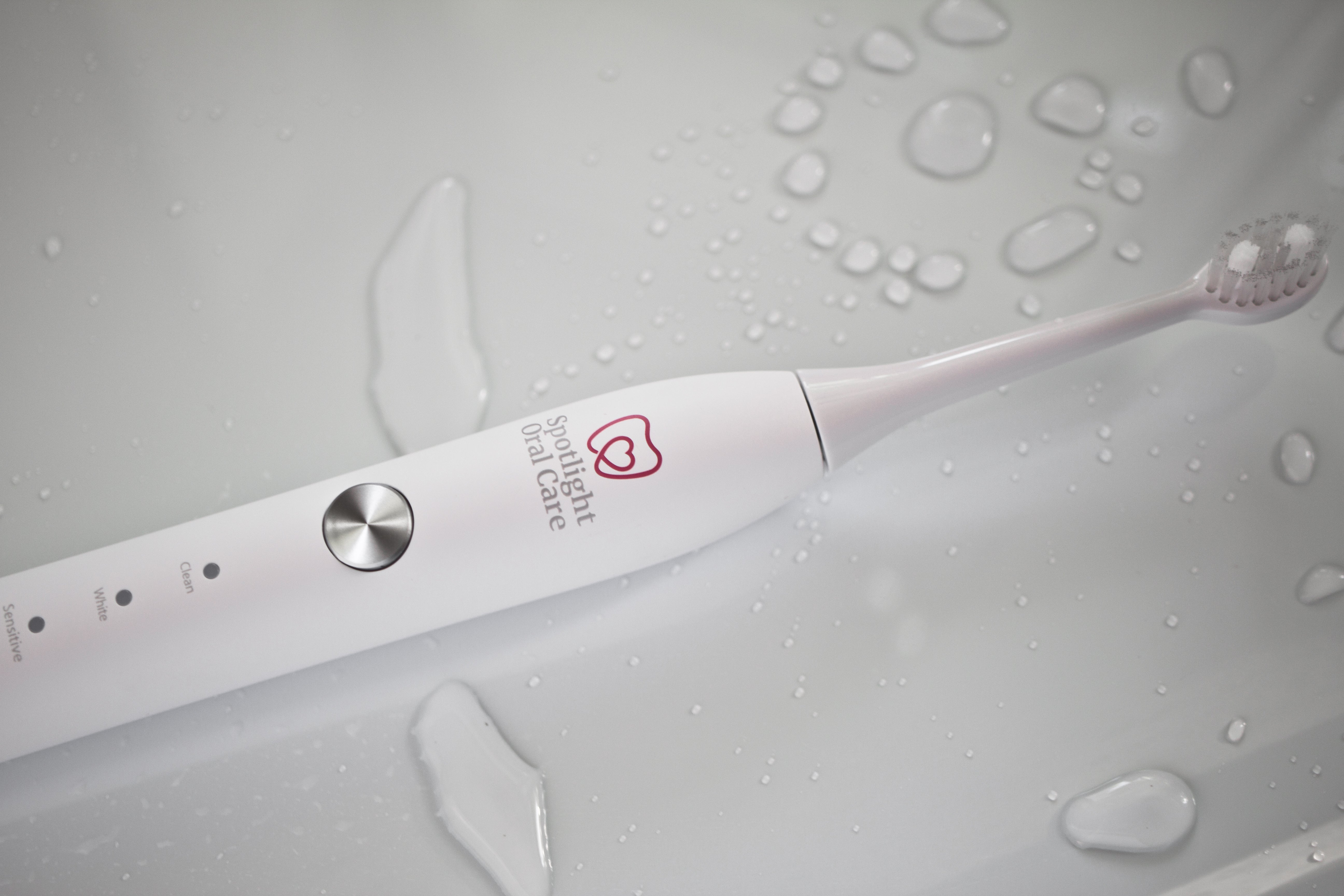 Our 'Game Changing' Sonic Toothbrush
Our best-selling Sonic Toothbrush is a game changer in the oral care industry, using professionally designed sonic technology, which allows the gentle feel of a manual toothbrush with an actual deep clean effect. The Sonic Toothbrush was designed with both efficiency and comfort in mind! It is gentle and effective in removing plaque and discolouration, ensuring an amazing clean and in turn, long term oral health.
So, what makes our Sonic Toothbrush different from a regular electric toothbrush?
Well, our Sonic Toothbrush has three different settings - Sensitive, Clean, and White. Each setting uses a different level of speed to ensure a comfortable experience while brushing your teeth. The high-frequency brush movements ensure that both toothpaste and oxygen are reaching those little spaces between your teeth that can be hard to reach. This technique ensures your teeth are receiving the best clean possible and the Sonic Toothbrush does all the work for you.
Plus, our Spotlight Oral Care Sonic Toothbrush has a long battery life – which means you won't need to worry about your battery dying during your morning routine!
The Sonic Toothbrush has three different settings with various amplitude ranges:
       

Sensitive – For Gentle Care

       

Clean – For Clean Teeth

       

White – For Intense Surface Stain Removal
Our Sonic Toothbrush comes with three toothbrush heads. It's important to ensure you rinse the toothbrush head after each use. We advise soaking your Sonic Toothbrush head in water weekly to ensure it's clean and always change the head every 3 months! By using the Sonic Toothbrush daily, your teeth will feel cleaner than ever and a clean mouth will contribute to your overall oral health.
The Sonic Toothbrush also comes with a travel case making it super easy to take anywhere with you!
How to Use the Spotlight Oral Care Sonic Toothbrush
Choose a setting that suits your needs. Place the brush on the area of the teeth that meets the gum. Start on the top right on the outside of the teeth, near the cheek and work your way around to the top left side. Repeat for the inside of the teeth (near the roof of your mouth). Brush the biting surfaces of your teeth. Repeat for the lower teeth. Brushing should take 2 minutes. 
Some FAQ's Answered
I have receding gums, can I use your Sonic Toothbrush?
Yes, our Sonic Toothbrush has three different speed settings. If you have sensitive teeth or gums, the 'Sensitive' setting is perfect for you. It ensures you are receiving an effective clean without being too harsh on your teeth or gums.
Can my child use the Sonic Toothbrush? 
Yes, kids can use the Sonic Toothbrush - just make sure they're using the Sensitive setting.
How long does the Sonic Toothbrush take to charge?
Charging time is a full 15 hours for our Sonic Toothbrush.
How often should I change the Sonic Toothbrush head?
We advise people to change their toothbrush head every 3 months.
Can I use any toothpaste with the Sonic Toothbrush?
Yes, you can use any toothpaste with our Sonic Toothbrush, but for best results, we recommend using a toothpaste from the Spotlight Oral Care range.

All of our toothpastes contain clinically proven active ingredients to target specific dental needs. Each toothpaste comes in a sugarcane tube and are 100% recyclable, ocean safe and vegan-friendly.