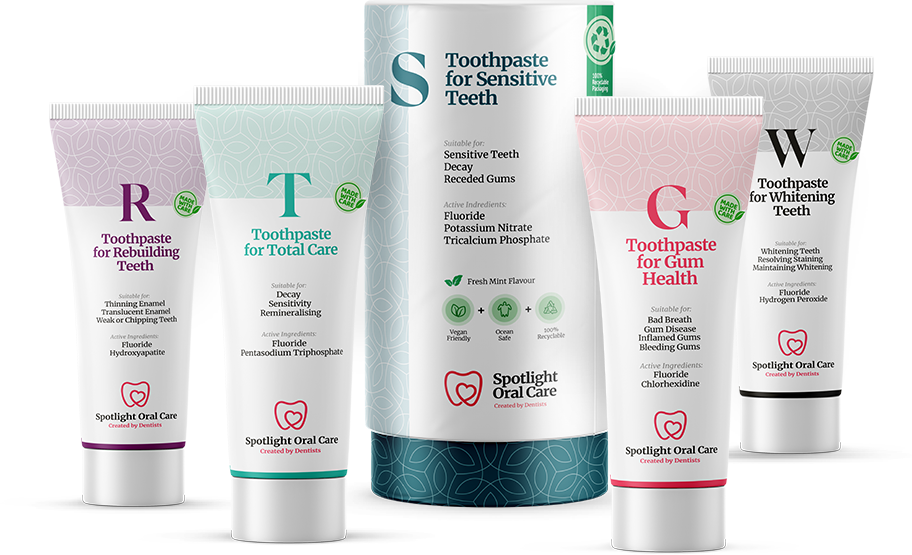 Spotlight Whitening is now Spotlight Oral Care!
Do you check the ingredients on your skincare products? Have you ever thought about what's in your toothpaste?  Did you know that the lining of your mouth is far more absorbent that your skin?
As dentists, we have been pretty concerned about the ingredients in many oral care products.
 So, we decided to make our own, a range that we could stand over and recommend to anyone! Spotlight Oral Care products meet the health AND beauty needs of our patients. We only use ingredients that are clinically proven.
To us, what we leave out is just as important as what we put in.  Every Spotlight Oral Care product is free from:
Parabens

Sulphates

Microbeads

Palm Oils

SLS or DEA

Triclosan

Propylene Glycol
You can clean your teeth with confidence, knowing that you're protecting your health while protecting your smile.
100% Recyclable
 Our toothpaste tubes can be recycled with other household plastics – one of the world's first commercially available fully recyclable, environmentally friendly toothpaste tubes and packaging!
 Ocean Safe
 Our toothpaste tubes are made from sustainable plant sugar cane which is recyclable and so does not end up in landfill or the ocean!
 Vegan Friendly
 Made from ingredients that are cruelty free and NOT tested on animals
 We have a toothpaste for all oral concerns – gum health, total care, rebuilding teeth, sensitive teeth and of course whitening your teeth.
Shop online now at www.spotlightoralcare.com and save 15% AND free shipping all this weekend with the code: SCARE15