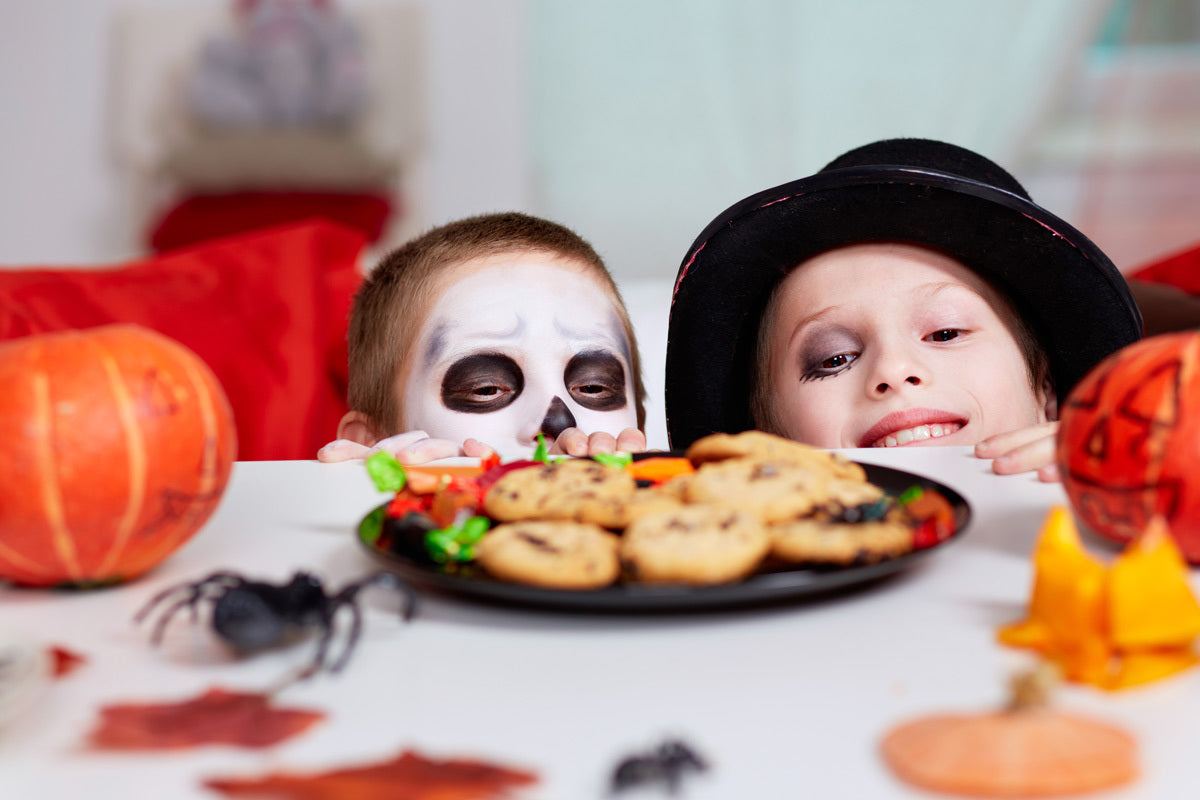 Trick or Teeth! Tips for Healthy Smiles!
USE CODE: 'HALLOWEEN' FOR 25% ACROSS THE SITE FOR THE HALLOWEEN WEEKEND!
We know Halloween is one of our kids' favourite time of the year! While it may be slightly different this year to normal trick or treating, we still want to make the most of the spooktacular holiday! 
As dentists, we want to ensure you're keeping your teeth clean and healthy, but that doesn't mean you can't have some treats every now and again! Holiday sweets can be tough on teeth, so we wanted to share our top tips for keeping smiles happy and healthy this Halloween.
Our top tips for healthy Halloween smiles
Don't allow sticky treats to play tricks on your family's teeth. Sticky sweets can cling to your teeth and increase the risk for tooth decay. Try to stay away from gummy bears and taffy to avoid an extra trip to the dentist.

Brush and floss teeth. Brushing your teeth and flossing every day is extremely important, especially on Halloween when sweets are more popular. Brush your teeth twice a day for at least two minutes with fluoride toothpaste. This will ensure that sugar will not be sitting on your teeth all night and will decrease the risk of getting cavities. Make sure you floss at least once a day to remove any debris between your teeth that your toothbrush bristles can't reach. Flossing and using a Water Flosser also helps remove plaque and food particles underneath your gum line.

Drink plenty of water between rounds of sweets. Make sure you and your family drink plenty of water while they're consuming their Halloween treats. Drinking water is one of the easiest and most beneficial things a person can do to help prevent tooth decay.

Limit the amount of sweets you and your family consume. Moderation is key! Give your child one or two sweets a day to ensure they are not consuming an unhealthy amount of sugar. Typically, you're less inclined to think about sweets when you have a few throughout the day. This also leaves less candy to munch on later at home, while watching television or doing homework.

Sharing is caring! If your family has successfully collected bags of sweets for Halloween, why not share them out among family and friends or even better yet, encourage your kids to donate some. This allows them to have what they enjoy without having leftover candy laying around for days (or even weeks).
We all have our favourite Halloween sweets or drinks. Enjoy these tricky treats in moderation while doing minimal damage to your teeth. This will ensure you have a healthy happy Halloween!