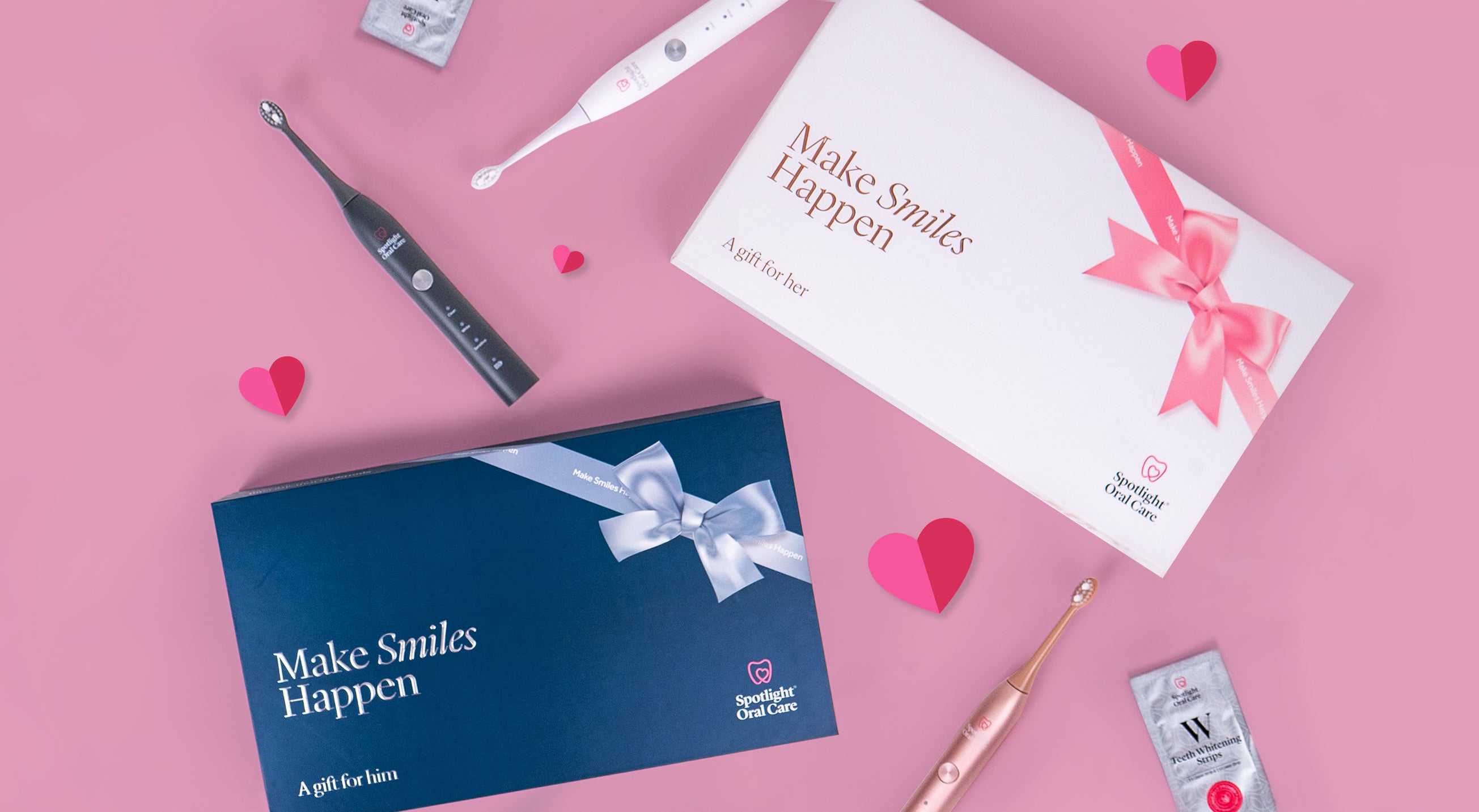 Valentines Day 2022
Whether it's Valentine's day with your significant other or just another normal day for you, we want you to have your most confident smile, especially when it comes to romance. Why not treat your special someone to a glowing smile this Valentine's Day? Our beautiful custom gift boxes will add the perfect finishing touch to our selection of gifts for your other half.
Spoil that special someone this Love Day with a collection of our best selling products at every price range. Our Filled With Love Gift Box will add the perfect finishing touch to all your gifts. Whether the man in your life asks for oral care products or not, after using them once he'll be smiling that he got them! If you're looking for a collection of oral care goodies to gift, our Gift for Her & Gift for Him make a brilliant present with added self care essentials. 
If you're lucky enough to be treated to some chocolate this Valentines (even if you end up treating yourself) be sure to drink water between feasting. Fluoride will be your best friend when it comes to maintaining your enamel so ensure that you have plenty of Toothpaste that contains this active ingredient to brush twice a day for 2 minutes. You can find Fluoride in all of our Toothpastes and rest assured we've left out all the nasties ingredients like SLS (Sodium Lauryl Sulphate) that's used to create a foamy lather, but is considered a toxic ingredient. SLS is even found in cleaning products so imagine the harm it could do when consumed. We want a toxic free Valentine's day!
If you're on the dating scene, you'll understand how much first impressions count. You may buy a new outfit, cologne or lipstick for a date but what about products for your oral care?
When it comes to intimacy, you may be self conscious about 'bad breath' or 'morning breath' or even be aware of your significant others. Fear not, we all get it but if it's something you want to improve in your oral care routine be sure to top up on our Kit for Bad Breath. This handy kit comes with a Toothpaste for Gum Health, Mouth Spray and Foaming Mouthwash to target bacteria that causes bad breath. 
If your oral care goal is to brighten and whiten your smile we have a range of products to give you that extra sparkle. Our Teeth Whitening Strips are fabulous if you're looking for a gradual 2 week whitening treatment to prepare for a certain event or occasion. These are our hero products and use the active ingredient Hydrogen Peroxide to safely whiten your teeth without causing any damage or sensitivity. We have two varieties of whitening strips, one for women and Men's Teeth Whitening Strips, the only difference is the size of the strips is slightly larger. These make the perfect set of gifts to treat yourself and your significant other, after stripping together is more fun! If you're looking for an on the go tool, our Teeth Whitening Pen whitens in just 5 minutes and is great to use to lift stains when out to dinner or drinking coffee.
If you're not quite sure what to gift your loved one this Valentine's Day, but you think they would like some Spotlight Oral Care goodies, a Digital Gift Voucher is a great idea. Simple to purchase from our website, an email containing the Gift Voucher is sent to your inbox, making this a great option for the last minute shopper! Choosing from amounts between €10 and €250 will allow your nearest and dearest to decide how they want to improve their smile!
To ensure you receive your gifts on time, please order by:
US: Wednesday 2nd February, 2022 
UK / EU: Tuesday 8th February, 2022 
Whatever your Valentine's Day looks like, we hope you're smiling away and feeling appreciated.