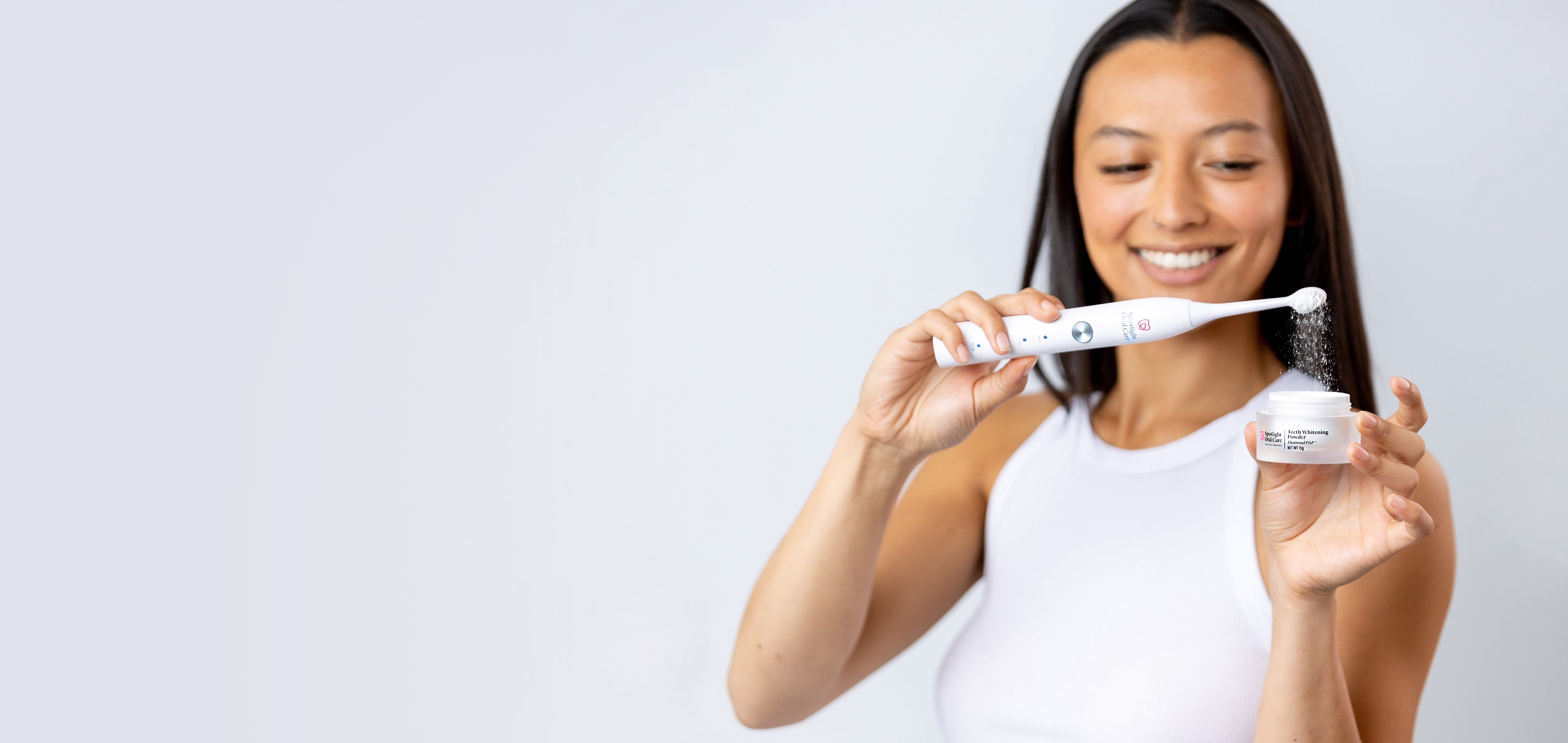 Teeth Whitening Powder Diamond PAP+
Instant Whitening Results
Our Teeth Whitening Powder contains active whitening ingredients Diamond Powder, PAP and Hydrogen Peroxide.
Get Early Access
Whiten Your Way
Use twice daily with your favourite toothpaste to reveal an instantly whiter smile.
Get Early Access
"I'm in love with it!
My teeth never looked whiter!
Everyone is asking me what I have been using"

- Katy
"The product is easy to use and quick to achieve brighter whiter looking teeth."

- Melissa
"The powder is gentle and didn't feel as abrasive or harsh on my teeth and gums like most  whitening products do"

- Dalia
MADE BY DENTISTS
Use this text to share information "Our Teeth Whitening Powder is a revolutionary product containing dual whitening ingredients that will transform any toothpaste into an advanced non-abrasive whitening treatment giving instant results"
Frequently Asked Questions
Apply any toothpaste to your toothbrush. Dip the toothbrush into the powder and simply brush as normal. Use AM and PM as part of your daily oral care routine.
Our Teeth Whitening Powder Diamond PAP+ is scientifically designed using active ingredients PAP, Hydroxyapatite and the patented ingredient Diamond Powder to lift stubborn stains. Utilising micro-fine powder technology infused with PAP, our Teeth Whitening Powder transforms your existing toothpaste into an advanced whitening treatment, that effectively oxidises stains and whitens the overall smile.
Teeth Whitening Powder Diamond PAP+ will immediately begin oxidising stains on your teeth. Use twice daily and brush for 2 minutes for optimal whitening results.
Yes it can. It will not whiten the veneer, composite bonding or filling, but it will help to dissolve daily stains.