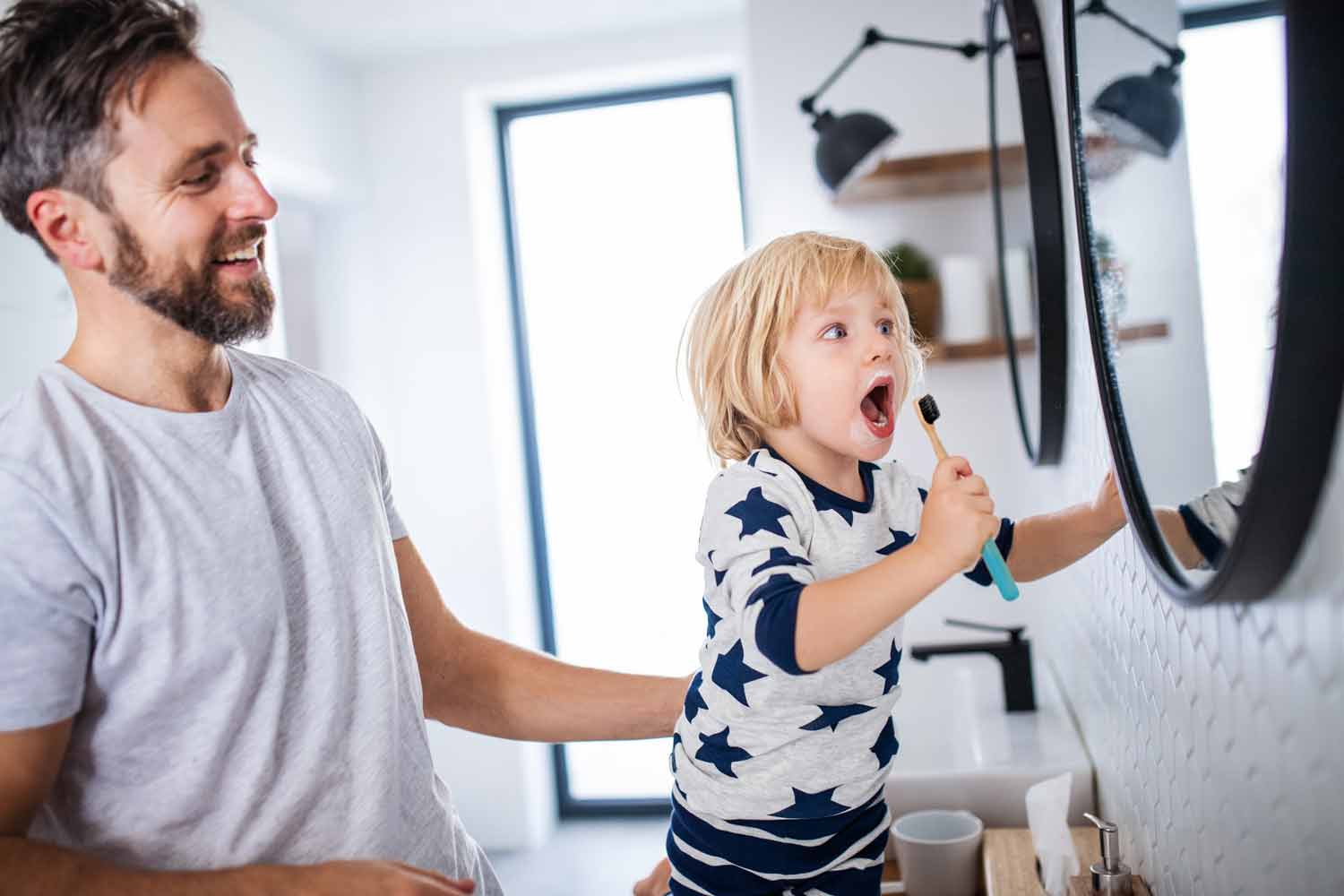 Choosing the right oral care products for your child: From Toddlers to Teenagers
One question we always get asked is what age is a particular product of ours suitable for our children. Whether it's the kid's toothpaste, our Sonic brush, or moving up to our adult pastes and
whitening strips
. 

Looking after your teeth and gums starts right from the day you get your first tooth, so it's vitally important to build a strong oral care routine for your child to take into adulthood.

We've divided our categories into four; from toddlers to teens, to recommend the best products, tips and techniques to nail down the best oral care routine for your child.

Tips:
Take your time! At this age, oral care can be quite a challenging thing to work into a solid routine, for both the child and the parent, so don't feel bad if it takes a while to master.
Techniques:
For children under the age of two, we recommend using a damp muslin cloth and gently wiping the teeth. It's a great way to get your child used to their teeth being cleaned.

Products:
 We often get asked 'At what age should you start brushing your baby's teeth?', the answer is, the minute they have teeth to brush! We don't recommend the use of toothpaste below the age of two as it contains fluoride. 


 Tips:
It's very important to supervise your children's teeth brushing until they're about 8-10 years old as they actually can't spit effectively. Encourage them to have a go and feel like they're owning it but do help to brush their teeth for them as they don't yet have the dexterity to brush their teeth thoroughly.

Techniques:
For children aged 2-7 we recommend using a pea-sized amount of toothpaste on a toothbrush and brushing morning and evening.

Products:
Toothpaste for Children
Bamboo Toothbrush
Why not try our
Kids bundle
with both Bamboo brushes and Toothpaste for Children
Tips:
From the age of 7 onward, your child can switch to an adult toothpaste which has an added amount of fluoride, the key active ingredient in our pastes. If your child is experiencing specific oral health issues i.e decay, bleeding gums or enamel erosion, each of our toothpastes has been specifically formulated to target individual oral health issues.

Techniques:
From 7+ your child can use our Sonic toothbrush! (link) However, we would advise starting them on the 'sensitive' setting. A sonic toothbrush is a great way to ensure your child is not over brushing their teeth, which can often result in gum recession and gum inflammation.

Products:
Adult Toothpaste Range
Sonic Toothbrush
Bamboo toothbrush
Tips:
From the age of 16, your child can start using our whitening products (link) if they're hoping to brighten up their smile! 
Appearance is particularly important to teenagers of this age and that includes their oral health! If your teen is lacking confidence in their smile, teeth or oral health, speak to them about their options. 
Whether they need orthodontic treatment, whitening treatment or a toothpaste that targets a specific oral health concern they may be embarrassed about, it's important to have an open and honest conversation with them to ensure they feel supported. 
Techniques:
At this age, teenagers are going through massive changes as they become young adults, both physically and mentally. They are experimenting, exploring and trying new things. Whether that be brightening their smile or investing in their oral health care.
Our range of products (are suitable for teenagers to use at this age so it's just a matter of choosing the right products suited to their individual needs!
Products:
Our
full range of Spotlight Oral Care products
are suitable for this age group. 
Products we recommended:
Our Sonic Toothbrush is scientifically proven to help keep gums healthy, remove plaque and stains, and stop tooth decay. It comes with 3-speed settings for personalised cleaning; sensitive, clean and white. It contains a 2-minute self-timer to ensure you're not over-brushing your teeth. 
Our whitening system comes with a full 14-day course of whitening strips plus a free whitening toothpaste to optimise results! 
Used to top up your smile on the go! Use a small amount of gel on the tooth to lift staining and brighten teeth!
Formulated with added whitening power, use daily in-between brushing teeth! Our mouthwash for whitening is alcohol-free. 
Our bamboo brushes are great for kids and the whole family! They're soft bristles ensure they are receiving a great brush without being harsh. Bamboo is a natural antibacterial which is a great choice for your daily routine.
All our toothpastes contain clinically proven active ingredients to target specific dental needs. All of our toothpastes come in sugarcane tubes and are 100% recyclable, ocean safe and vegan-friendly.
Toothpaste for Children: Our toothpaste for children contains fluoride, which is the only active ingredient proven to reduce and stop decay. Our children's toothpaste contains a slightly lower amount of fluoride and a milder flavour which children often prefer when starting off as it's much more of a gentle flavour!
Toothpaste for Total Care: Combines the best of our active ingredients to combat the most common problems in dental health such as decay, sensitivity and enamel erosion.
Toothpaste for Gum Health: Clinically formulated to alleviate inflammation, bleeding, sore gums and bad breath.
Toothpaste for Rebuilding Teeth: Using the active ingredients fluoride and hydroxyapatite it is designed to reverse early erosion and enamel loss.
Toothpaste for Sensitive Teeth: Acts by rebuilding the protective layer on the outer surface of the tooth protecting the nerve of the tooth.
Toothpaste for Whitening: Contains the active ingredient hydrogen peroxide which is clinically proven to whiten teeth.
Use the code SOC25 for 25% off your order!