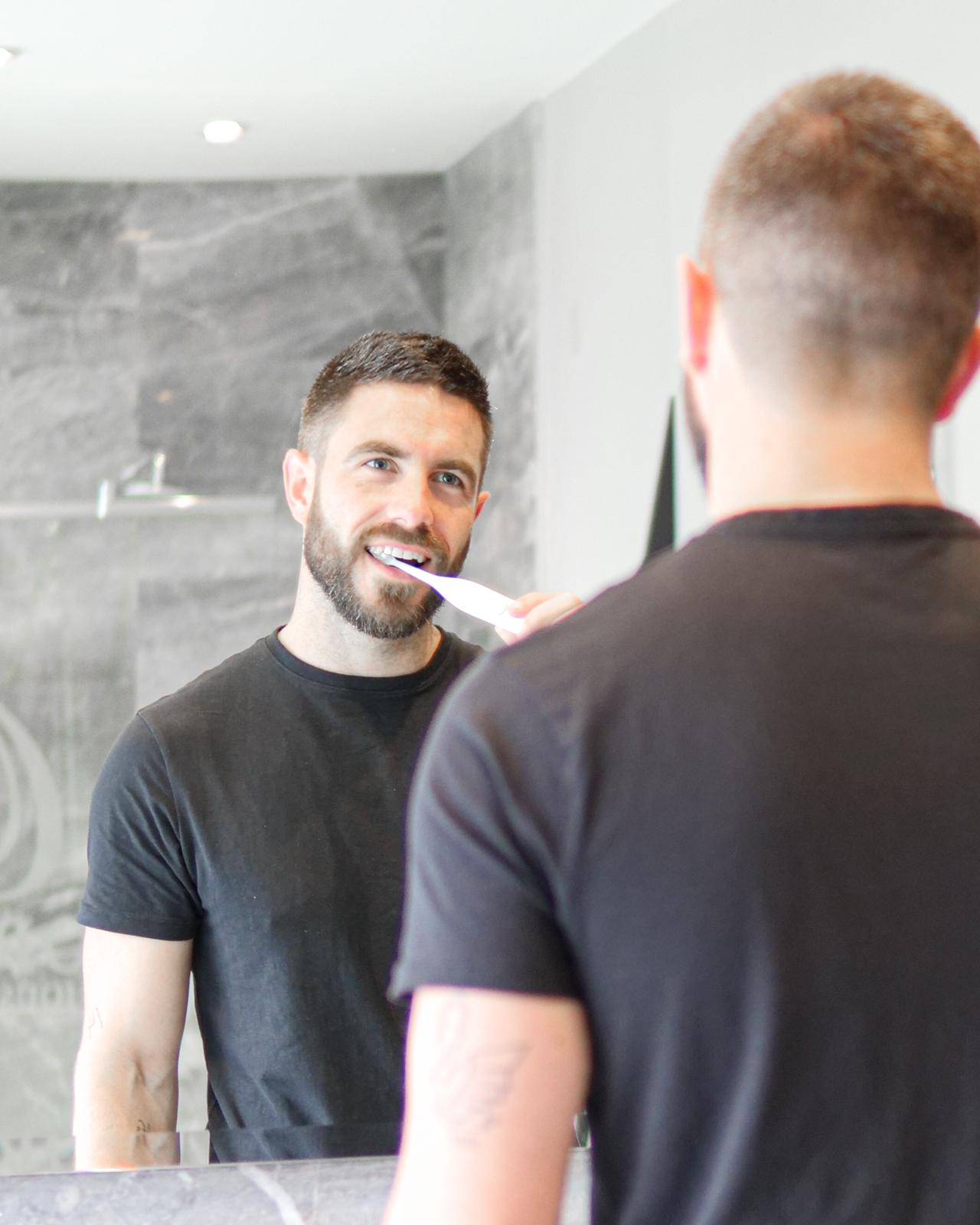 Our Customers Favorite Products

"The reviews were very good, so decided to take the plunge and try it. It's totally shocked me with how good it is! My teeth have never been so clean and so white. Worth every penny."  

– Emma. R, Verifed Buyer Review
Use the code SOC25 for 25% off your order! 
Great teeth start here! Our Sonic toothbrush is scientifically proven to help keep gums healthy, remove plaque and stains and stop tooth decay.
A game-changer, our Spotlight Oral Care Sonic Toothbrush uses professionally designed sonic technology which allows the gentle feel of a manual toothbrush with an actual deep clean effect. 
This toothbrush has three different speed settings with various amplitude ranges to suit every individual need.
Sonic Highlights:
70-day battery life 

 3-speed settings for personalized cleaning: sensitive, clean, white 

 2-minute timer + high-frequency brush movement 

Has the option of personalization 
What you get:
Spotlight Sonic Toothbrush 

3 replacement heads 

Travel Case

Charging Base 

3 Extra Toothbrush Replacement Heads
"I love how natural the whiteness of my teeth look after using the strips and toothpaste I will definitely buy the pack again and have recommended to friends. I also really liked the packaging it arrived in; simple, clean and cute."

– Kirsten, Verifed Buyer Review
Our Whitening Strips help dissolve stains using the active ingredient Hydrogen Peroxide, which is clinically proven to whiten teeth. Teeth are gradually and safely whitened without damaging tooth health. 
Our clinically proven whitening system works by breaking down these complex stains that have built up over time on the tooth surface, by penetrating the top layer of the enamel to brighten the color.
The Spotlight Oral Care Teeth Whitening System contains a full 14- day course of our whitening strips and a FREE 100ml Whitening Toothpaste.
Whitening Highlights: 
Dissolves Stains  

Long-lasting Results  

Contains the active ingredient Hydrogen Peroxide

Whitens teeth safely at home
What you get: 
Full 14-day course of Whitening Strips

FREE FULL-SIZE Whitening Toothpaste
"Wow - I just love this mouthwash! I usually don't like mouth wash as I don't like the after taste, but this one I highly recommend. I am starting to notice a difference in the colour of my teeth after only using it a few days." 

– Lisa. S, Verifed Buyer Review
Our Mouthwash for Whitening has been specially formulated to give you all the oral care benefits you need with added whitening power. 
Containing active seaweed particles and hydrogen peroxide, our White Teeth Wash rejuvenates the oral tissues while ensuring teeth whitening effects!
Mouthwash should be used twice daily, as part of your oral care regime.
Mouthwash Highlights:
Alcohol-free

Active Ingredients 

Irish Seaweed and Hydrogen Peroxide for Added Whitening Power
You Get:
500ml bottle

Clean, Active Formulation 

Self-filling Lid

Recyclable Bottle 
"Best toothpaste I've tried to help my bleeding gums. After 2 weeks, there's now no bleeding when brushing and a month later my gums are nice and pink again! Will definitely continue to use."                             

– Shauna, Verifed Buyer Review
Our Toothpaste for Gum Health works to fight gum disease and gingivitis. It contains clinically proven ingredients to alleviate bleeding gums and helps to reduce bad breath.
Our Toothpaste for Gum Health contains the active ingredient Sodium Fluoride to prevent potential cavities, leaving your mouth minty-clean.
Toothpaste Highlights: 
Alleviates bleeding gums and bad breath

Minty fresh

Contains Sodium Fluoride

100% Recyclable
"Excellent whitening. Just tried the Whitening Dental Floss and it's great for extra whitening in between teeth. Very impressed." 

– 

Margaret. F

, 

Verifed Buyer Review
Discover our range of Dental Floss, each dipped in an active ingredient, to help battle common dental concerns including Decay, Bleeding Gums, and Whitening. All our floss is made from 100% recycled ocean plastic.
Used daily, our floss effectively cleans plaque, food, and debris from between your teeth, improving gum health and overall oral health in areas your toothpaste can't reach!
Choose from: 
Dental Floss for Gum Health

Dental Floss for Whitening Teeth

Dental Floss for Decay