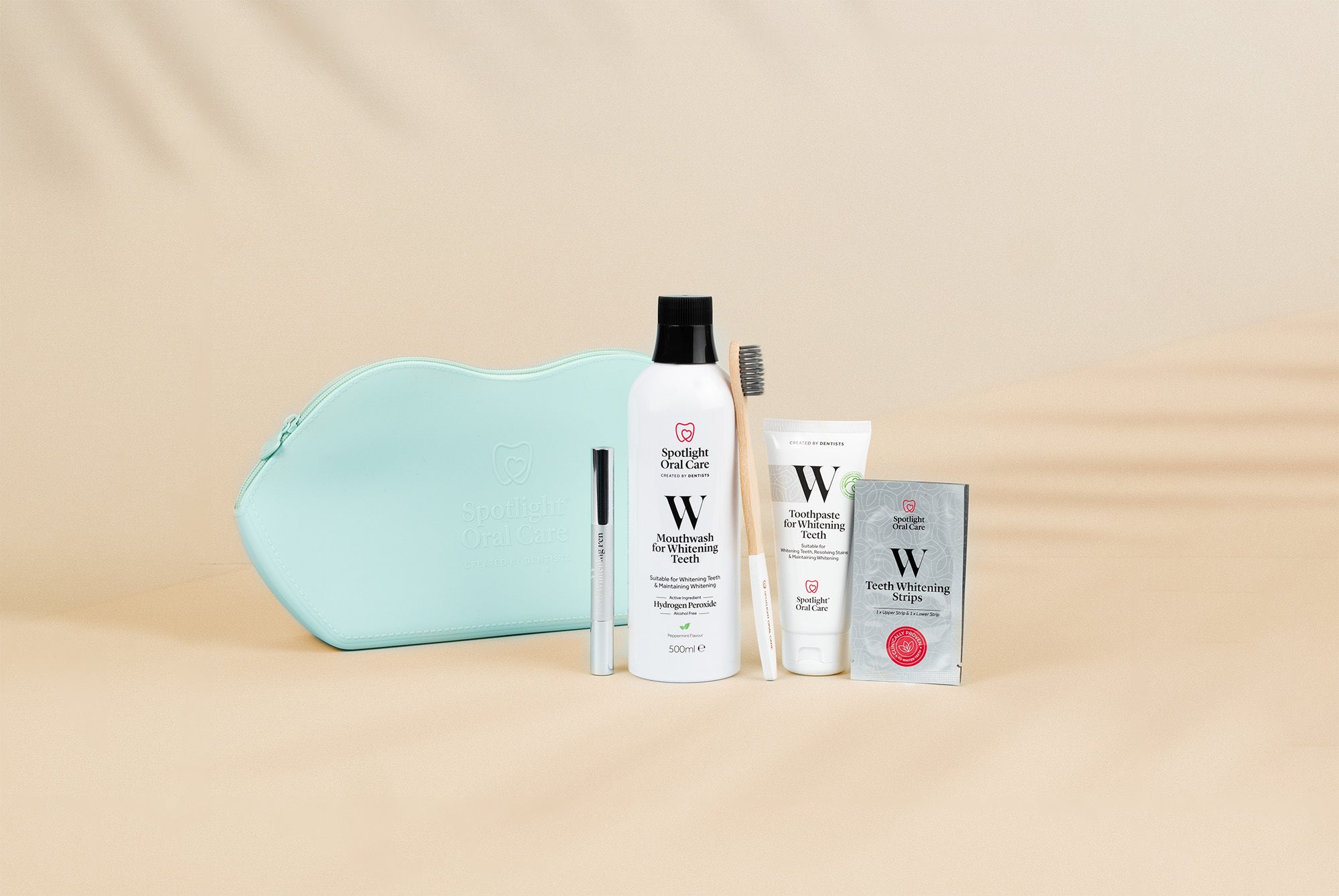 New Summer Essentials Kit
If you love to travel and can't leave without your self care goodies, we have just the oral care treat for you. Introducing the new  Summer Essentials Kit including 4 of our hero teeth whitening products, a Sustainable bamboo toothbrush and a travel bag. This set comes with 28 Teeth Whitening Strips, Toothpaste for Whitening Teeth, Teeth Whitening Pen, Mouthwash for Whitening Teeth and a White Bamboo Toothbrush . While you're bronzing up on the beach you can be sure that your smile will stay sparkling with these treats. Available now for €72, shop here. 
The products come in a flexible silicone travel bag. Perfect for on the go, this easy to clean travel bag is your must have summer essential! It's stain and water-resistant but should not be submerged in water while accessories are stored inside. Get yours for €20 here. 
Teeth Whitening Strips
However long of a trip you book, you can pack one whiten strip per day without adding much weight to your suitcase. These Whitening Strips are small, lightweight and easy to carry so you don't have to worry about heavy luggage. Apply for one hour a day to remove staining and brighten your teeth to get that extra sparkle.
Toothpaste for Whitening Teeth
On holiday we all love a cocktail or two and it's a great time to treat yourself. To stay on top of your teeth whitening routine use our Teeth Whitening Toothpaste twice a day everyday for 2 minutes with your bamboo toothbrush.
Teeth Whitening Pen
Our Tiktok Viral Teeth Whitening Pen is the perfect on the go accessory, you can even take it out to dinner with you. If you're a coffee enthusiast this will be your new found saviour to instantly lift away stains in just 5 minutes. You can apply as and when you desire to maintain your sparkle. 
Mouthwash for Whitening Teeth
Mouthwash is best used in between meals, so if you happen to be in and out of your hotel room we recommend freshening up after meals or snacking. Our Mouthwash for Whitening Teeth is alcohol free and has a fabulous minty fresh taste to keep you feeling refreshed and clean. 
At Spotlight Oral Care, we are happy to confirm that all of our Teeth Whitening Products are formulated with a safe amount of Hydrogen Peroxide and are 100% bleach, palm oil and toxin-free. We follow the legal guidelines for DIY whitening kits, which states that no more than 0.1% hydrogen peroxide can be contained in any product, so you can safely whiten your teeth at home (or on holiday) without any nasty side effects or sensitivity. 
This would make a perfect gift for someone who is going on their honeymoon, travelling with friends or even to treat yourself if you have a vacation booked. Wherever you are off to this travel collection will be your smiles best friend that's convenient enough to slot into your suitcase.